When it comes to property line dividers, you don't have to settle for your average fence. You can get creative when you want to distinguish where your property ends, and your neighbor's begins.
Besides fences and stone walls, landscaping property lines is a great way to distinguish what's your property and add style to your yard at the same time. At FortSmith Landscaping, we can provide landscaping design ideas that will truly make your home stand out.
Let's take a look at why property lines are so important, as well as some ideas to consider for landscaping your property lines.
The Importance of Property Lines and Their Impact on Landscaping
Knowing where your property ends and where your neighbors begin is important if you're planning on adding landscaping. To avoid this from happening, you need to have accurate information on where your property lines lie.
Understanding Property Lines
To assure that you have the right information about your property lines, you may want to hire a surveyor. This is especially important if you don't know where your property ends or if your neighbors have questioned it. This way you will know exactly how much space you have to work with. This can help to narrow your choices when it comes to property line landscaping.
Exploring the Balance Between Privacy and Aesthetics
Some people add landscaping and other items to their property because they want privacy. Others have more of a visual interest in what their lawn looks like and want it to look as good as possible with the right landscaping. This is why you want to ask yourself why you're adding landscaping elements. Do you want privacy? A windbreak? Security? or just something that improves the look of your yard? Once you answer this question, you can determine the type of landscaping element you want to add. Believe us, you have plenty to choose from!
Types of Front Yard Property Line Landscaping Dividers

Hedges and Bushes
Hedges and bushes are great privacy protectors, especially if you're not a fan of fences. As long as you maintain them, hedges and bushes create a neat, crisp landscape as well as a privacy screen. Hedges need to be trimmed regularly to keep their straight lines and surfaces. Hiring FortSmith Landscaping can assure that your hedges always look well-kept.
Fences and Stone Walls
Fences are a good way to distinguish what property belongs to you. They also provide privacy. Wooden fences can be a great idea if you're looking for security and privacy. PVC vinyl fences are another low-maintenance option but may cost more than other types of fences. Other people opt for a picket fence. Be sure that whichever one you choose does not cross your neighbor's property line.
If aesthetics are the goal of your property line landscaping project, a stone wall is a real eye-catcher. A traditional stone wall adds a touch of beauty to your property. With so many varieties, you're bound to find one that suits your style.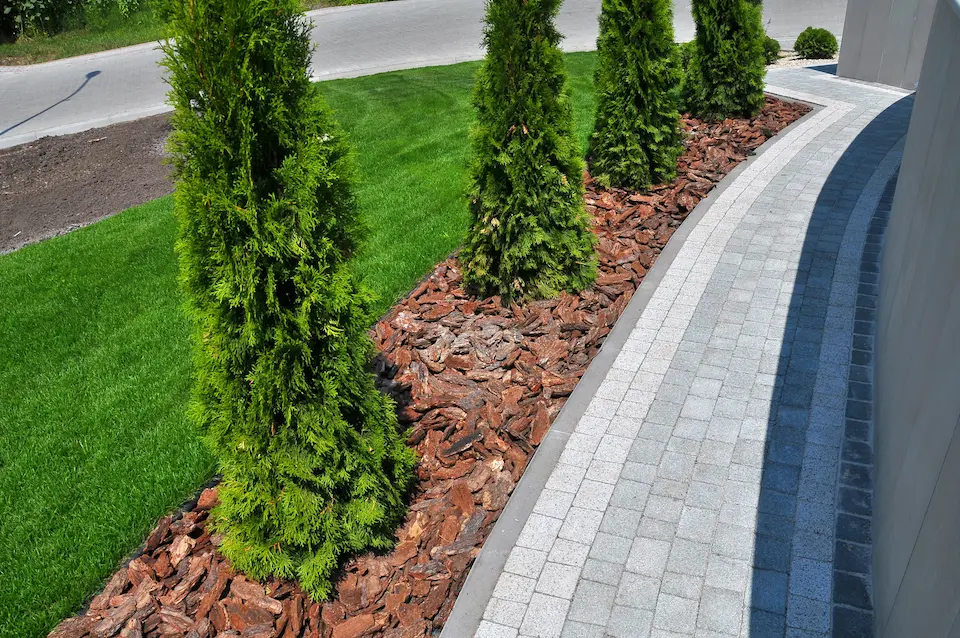 Colorful Fast-Growing Shrubs
If you like natural, plant-based options, look for evergreen shrubs or flowering shrubs. They can grow fast and become quite large. They can help you to draw your property lines while making the space around your house look great.
Ornamental Grasses
Having ornamental grasses planted on your property not only creates a boundary but also protects your privacy. Some grasses can grow as tall as 15 feet. Talk about a barrier! You can visit your local garden center for ideas or consult a landscape designer at FortSmith Landscaping for ideas when it comes to different types of grasses.
Planters and Raised Beds
Planters and raised beds create a natural look when it comes to landscaping property lines. Some people also choose to plant a vegetable garden in their planters. Whether you're planting flowers or vegetables, or other plants, be sure that your planting beds don't grow into your neighbor's property. Be aware of the growing season and just how big your plants are going to get.
Privacy Screening and Large Trees
A dense row of trees or shrubs can create an effective privacy screen. The trees are planted a few feet inside your property line or near a fence so that they are on your property. Columnar evergreens are good choices if you go this route. Planting deciduous shade trees is a good way to obtain privacy since they typically grow 25 to 60 feet high.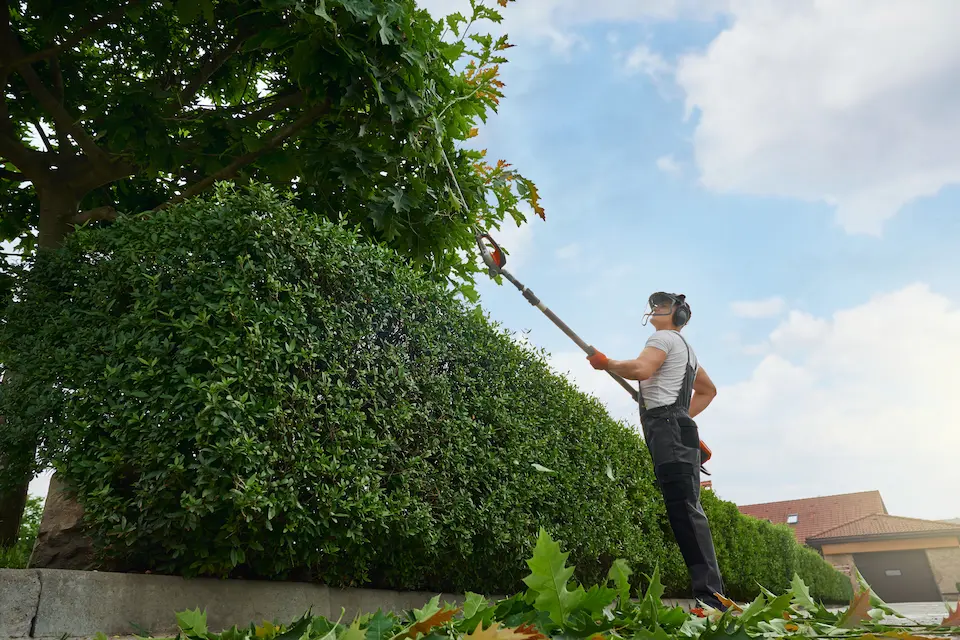 Regulations and Legal Considerations
If you are using trees, shrubs, or other plants to help separate your property from your neighbor's, you want to be sure that you're planting on your property. You don't want to plant too close to the property line because trees and plants will grow and there is a possibility that they can grow into your neighbor's property. If any tree parts fall into their yard, they have the right to trim them with or without your permission, but can't go into your property. It's generally best to plant 3-4 feet away from property lines to allow for growth.
If you are concerned you will have a property line dispute with your neighbor, it's best to get professionals involved so that you have accurate information and know where you stand.
Trust FortSmith Landscaping For Expert Landscape Design and Lawn Care
Trust ForthSmith Landscaping if you're considering landscaping property lines. From deciduous shrubs to perennial plants and flowering shrubs, we can offer recommendations for your property. You can trust us to create a classic look that will complement the rest of your property.
Call us today at (919) 228-8495 to learn more about our landscaping services and schedule an appointment!