Lawn Aeration Service Wake Forest NC
We grow grass... and we love what we do
Lawn Aeration in Wake Forest, NC
You want a beautiful, well-maintained lawn to increase your curb appeal and elevate the appearance of your home, but instead, you're struggling with thin and bare patches of exposed soil. Fortunately, you don't have to accept a sparse and unattractive yard. FortSmith Landscaping can transform and revive unhealthy grass with lawn aeration and overseeding in Wake Forest.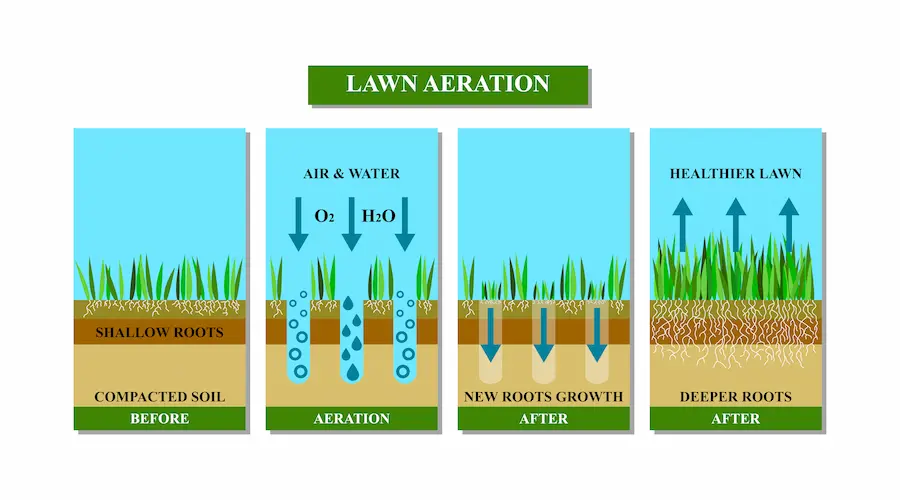 Over time, the soil becomes compacted while dead grass, roots, and stems form a thick, dense thatch over the earth. These two factors work together to prevent oxygen, water, and nutrients from nourishing the grassroots. This causes the grass to thin out or die, creating a patchy, unhealthy lawn. 
Lawn aeration combats this problem. By puncturing the surface of the soil and pulling up small plugs in a network of small holes, our landscaping team breaks through the thatch and loosens the soil, allowing air and water to penetrate and enter the roots so the grass can grow. The end result is a lush, vibrant lawn you can be proud of.
North Carolina Licensed General Contractor      Fully Insured      25+ 5-Star Reviews  
Our Anual Lawn Aeration Services
When you schedule annual lawn aeration services from FortSmith Landscaping, your yard will continue to maintain its beauty. Not only will your grass absorb the water and nutrients it needs to thrive, but aeration also offers the following benefits:
Thick thatch buildup creates a breeding ground for insects and mosquitoes. Aerating the lawn breaks the thatch and minimizes the risk of insect infestation. 
Water can drain into the soil more effectively, reducing the need to water the lawn manually. 
Fertilizers can easily reach the roots to make your yard even more healthy and attractive. 
Lawn mowing is more effective because the surface is more even, rather than spongy and bumpy due to dead thatch buildup. 
If your lawn has bare spots or areas where the grass has thinned out, overseeding during the aeration process allows us to plant new grass seed without tearing up the existing turf. New grass growth will fill in the patchy areas while making your current turf thicker, softer, and healthier. 
Why Choose FortSmith Landscaping for Lawn Aeration Services?
FortSmith Landscaping is Wake Forest's leading landscaping company. Our local, family-owned company is dedicated to helping you achieve a stunning lawn at an affordable price. Whether you need ongoing lawn care services, including mowing and trimming, or annual maintenance, such as lawn aeration and overseeding, our team works hard to get the job done right and ensure 100 percent customer satisfaction. 
Frequently Asked Questions About Lawn Aeration and Overseeding
Don't know much about aerating a lawn? We do! If you have questions, we may answer them below, but don't hesitate to reach out to us directly to learn more.
Lawn aeration should be done annually to keep your grass healthy. Also, a lawn that needs aerating may have bald or bare patches, areas where the grass is thin, or you can look closely and see the thick bed of thatch over top of the soil. 
It's always a good idea to have your lawn aerated when it has time to recover. Cool-season grasses tend to thrive during early spring and fall whereas warm-season grasses tend to grow most in early summer. We can help you determine the best time to perform this service to get the best results. 
No, even with intensive aeration, the holes are only about a half an inch wide and the existing grass tends to cover them. Plus, the new grass that grows from overseeding will fill in the areas swiftly. 
If we overseed the lawn, we'd recommend being cautious about walking on any new growth as that could damage the seedlings. Until the grass is a few inches tall, avoid walking on it when possible. 
No, but by aerating and overseeding the lawn, the grass can grow more thickly to block out weeds or crabgrass or keep them from growing. However, we can always discuss weed removal solutions with you if you're concerned about them. 
Call Us for Lawn Aeration and Overseeding in Wake Forest
If you want to restore your yard and improve your curb appeal, we can help. We offer free estimates for all services and ensure each project we take on is completed to your satisfaction. To get started, call us today at (919) 288-8495 or fill out the form below.