We have found over our time estimating lawn service for our customers that the process of calling our office and discussing price can be very stressful. We are extremely transparent in our pricing structure because we want you to know where our numbers are coming from!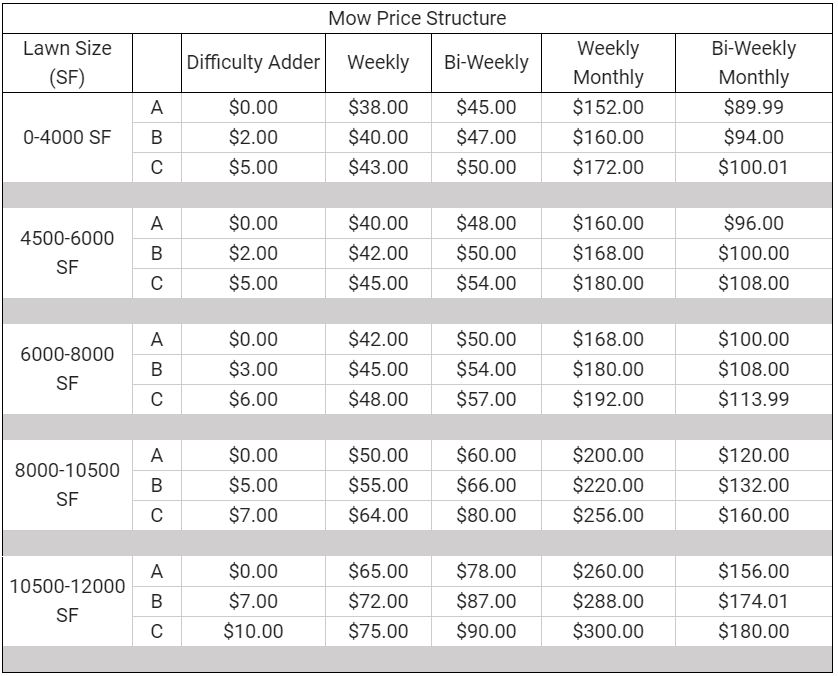 Note: Our pricing is based on the square footage of the lawn. From there we use a difficulty system based on the components of the particular lawn that my affect the time spent on-site. This process helps us to be consistent throughout the bidding process, it also helps us make sure that we are able to provide our customers with the best service possible for their specific properties.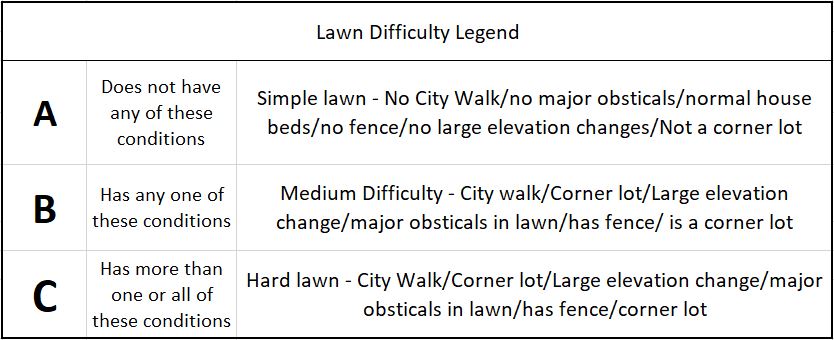 Frequently Asked Questions
I have a very small lawn. Why is this price so high the amount of work that needs to be done on my property?

Even if the property is very small we have to charge a minimum amount to make sure that we can cover our overhead expenses. We are a legitimate company we have expenses such as trucks, trailer, insurance, fuel, software, as well as a full time office staff to better service our customers.

My lawn hasn't been mowed in a while, it is actually a little bit over grown. Do you charge more?

Yes, we have to charge more in this case simply due to the amount of time we spend onsite. Though it isn't a big deal to get an over grown lawn back to looking in tip top shape, it takes twice sometimes three times as long as a normal service might take. We have to charge accordingly to make sure that you as a customer are fully satisfied with the work performed. We even take the extra time to shape the edges at the walks and driveways! Once it is back in shape the normal services fee apply!
North Carolina Licensed General Contractor           Fully Insured