A flower bed not only adds to the aesthetic of an area but also creates spaces that are essential for pollinators and butterflies. Flower beds greatly enhance the curb appeal of your home. Initially, starting a flower bed may seem overwhelming.
Don't let fear and hesitancy get in the way of building a beautiful and colorful flower bed. It simply requires some planning, preparation, and physical work to make your vision come to fruition.
At FortSmith Landscaping, our team can help you with any phase of the construction--from inception to completion.
Flower Bed and Garden Construction
Raised Beds
Raised beds are a great idea if the soil in your yard isn't conducive to growing flowers. Granted, most soil needs enhancing to have the nutrients flowers require to look their best. But, if you are looking at a fairly large area for your garden, you may want to consider creating a raised bed.
Soil
Most flowering annuals and perennials do best in soil that is comprised of different proportions of clay, silt, and sand and that is easily crumbled. Performing a soil test is a good idea so you know what your dirt needs. Mixing compost into the soil improves it by adding nutrition and enhancing the structure.
Amount of Sunlight
You should consider the amount of sunlight that the area is exposed to during the day. A space that is primarily shaded requires certain flowering plants to thrive. There are fewer types of these plants so your choices will be more limited. Most flowers need some sunlight during the day in order to live and reach their full potential.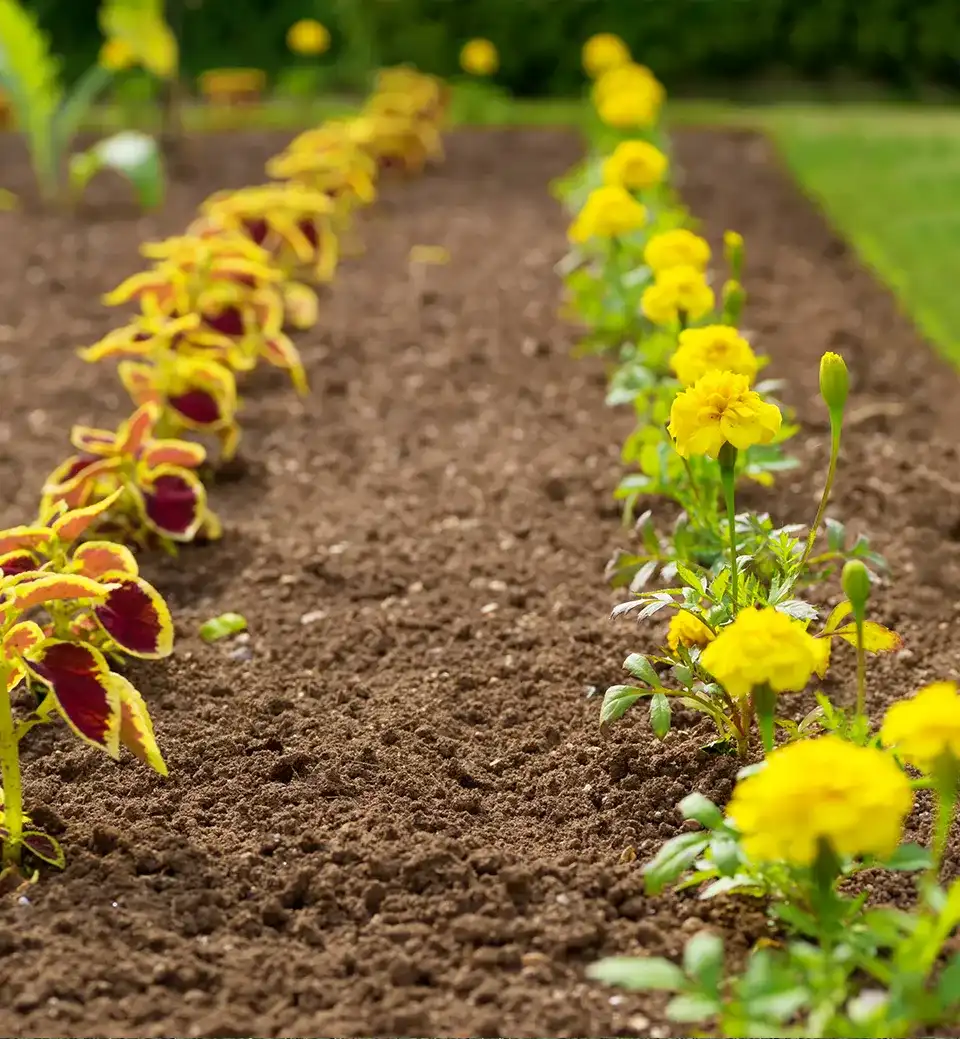 High-Quality Flower Bed Design
The design of your flower bed, whether it is a raised bed or not, needs to fit in with the aesthetic of your home and yard. For example, if you have a border garden, it will look best with flowers that don't grow so tall that they overcome the house. Most of the time, a flower border is long and narrow instead of short and deep.
A border flower garden typically is arranged with taller plants (taller than 2 to 3 feet) placed in the back, mid-sized plants (10 inches to 2 to 3 feet tall) in the middle, and short plants (less than 10 inches) in the front of the planting bed. It is a good idea to use groupings of at least three of the same plant together. One plant won't have enough impact whereas a grouping of 3, 5, 7, or more have a strong impact.
Conversely, an island bed is usually round, square, rectangular, or undefined. An island bed doesn't lend itself to a long and narrow shape; instead, it needs to be proportional so that a longer bed is also wider. Island beds look great with an anchor that is the focal point such as a tree trunk or bird bath. Smaller island beds are popular around mailboxes.

North Carolina Licensed General Contractor      Fully Insured      25+ 5-Star Reviews  
Flower Beds Built To Last
Preparing the soil is the first crucial step in building a flower bed that lasts. You can build a flower garden using different ways to get the soil ready, removing the grass is the first step.
Dig Up the Existing Grass
Remove the turf by wedging a shovel or a hoe under the edges of the grass. Then lift and peel the sod away. After the grass is removed, you can prepare the soil for planting.
Remove Grass Without Digging
This method is less work than digging up the grass but takes longer. Cover the area of the literal flower bed with overlapping sheets of newspaper, at least six pages deep. Next, cover the paper with several inches of rich soil or compost. Soak it in water. Over several months the covered grass dies and the newspaper will decompose and add nutrients to the soil. It is best to keep the area covered for a year before installing your flowering plants.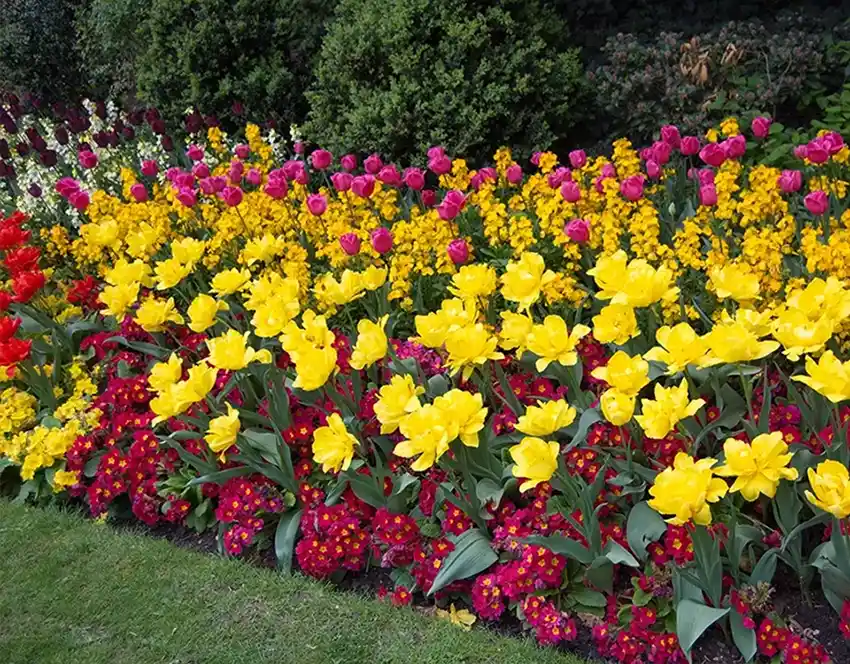 Build a Raised Bed
What exactly is a "raised garden bed?" When we use this term we are referring to a freestanding box or frame, without a top or bottom, that sits above ground in a sunny spot and is filled with good-quality soil. Raised beds usually are open on the bottom so the plant roots can grow down into the soil below the ground level and make use of the nutrients.
You can construct a raised bed in a couple of ways.
Use wood boards that are cut to the desired length. This allows you to build any shape or size you want.

Use a raised flower bed kit that supplies everything you need. The edges snap together so you don't need to saw or hammer. Most kits create fairly small squares or rectangles.

Mound the soil 6 to 8 inches high with no frame.
Selecting the Plants for Your Flower Beds
After getting a flower bed design and preparing the soil, it's time to come up with flower bed ideas for your colorful flowers. For the backbone of your garden bed, use flowering perennials that you don't have to replace each year. Use annual flowers for pots or quick color for just one season. You should choose varieties that do well in your climate and are suited to the garden bed's exposure to sunlight. Most importantly, choose the flowers that you love.
Here are some ideas to get you started if you have plenty of sunlight in your garden:
Sunflowers (back of borders), Coneflowers (back of borders), Zinnias, Dianthus ,Black-Eyed Susans, Amsonia, Baptisia, Anstrantia, Sedum, Daylily, Foxglove, Salvia, Lavender, Hellebore (blooms in the winter!, Aster, Irises (like the morning sun).
Here are ideas for a shady flower garden:
Astilbe, Bee Bal, Bleeding Hear, Foxglove, Hydrangea, Jacob's Ladder, Lamb's Ears, Lily of the Valley, Primroses, Violets.
Professionally Installed Flower Beds And Gardens
Yes, you can see that there is quite a bit of work involved in creating a yard flower bed for your yard. Some people love to do it themselves and don't mind the amount of time and effort that is required. However, you may not fit into this category.
Maybe you are extremely busy taking care of other aspects of life like your job and family and can't seem to find the time for a project like creating garden beds. You would love to have plants and flowers in attractively designed areas, but you don't have time to do the work to make it happen.
Professionally installed flower beds and gardens can be the solution for you! Not only do the pros do all the work, but they can also save you money in the long run. A professional plan will have the correct plants for the area and take into consideration other aspects of the garden bed that you may not consider. A landscaping company like FortSmith Landscaping can do everything from creating a new design for your yard to installing sod, trees, bushes, and flowering shrubs as well as the right flowers to thrive for a long time.

Contact Wake Forest's Most Trusted Landscaping Company
To get a professional crew to help you with a new or existing flower bed, contact FortSmith Landscaping in Wake Forest. Our team can take care of everything from start to finish. We can do the garden design, construction, planting, and maintenance for your flower beds, garden beds, and entire yard! Call us today at (919) 228-8495 or fill out our contact form to learn more about our flower bed landscaping services!