Wake Forest Overseeding Service
Achieve a Healthy Lawn with FortSmith Landscaping
Overseeding your lawn is one of the best ways to achieve a plush, green lawn in Wake Forest year-round. The professionals at FortSmith Landscaping can take care of your overseeding project so that you can improve your curb appeal.
Overseeding your lawn is the process of spreading new grass seed over the existing lawn. If your lawn has bare spots or areas where the grass is not as thick as you would like, overseeding is the way to go.
Overseeding goes hand in hand with the aeration process because when you overseed during this time, it allows new grass seed to be planted without tearing up your existing lawn. Lawn aeration and overseeding are a good combination because the holes that the aeration process produces provide the grass seed with the perfect spot to grow. New grass will grow and fill in the patchy areas and make your current grass thicker and softer.
Many homeowners choose to overseed their lawns because it is cost-effective and less time-consuming.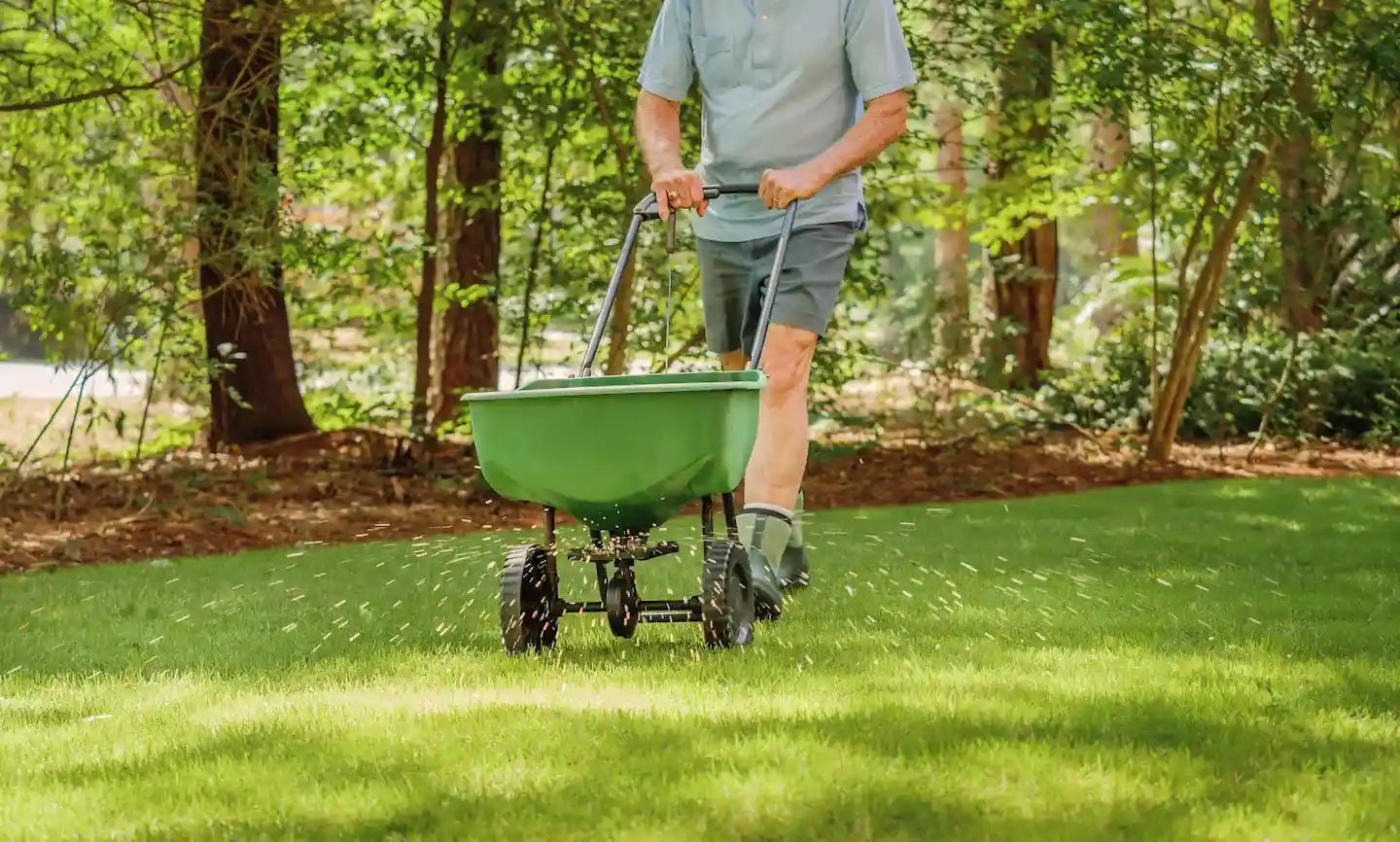 The Best Time to Overseed Your Lawn
The best time to overseed your lawn in Wake Forest is generally the spring or fall. This gives the seed enough time to get established in the soil. There is also generally less foot traffic or chances of drought.
If you have cool-season grasses, you'll want to opt for the fall. For warm-season grasses, late spring is generally recommended.
North Carolina Licensed General Contractor      Fully Insured      25+ 5-Star Reviews  
Benefits of Overseeding Your Lawn
As lawns age or sustain damage from seasonal challenges, they can become thin, patchy, or vulnerable to weeds and diseases. Overseeding not only fills in these gaps, rejuvenating the appearance of your lawn, but also introduces newer, more resilient grass varieties. By understanding the benefits of overseeding, homeowners can take proactive measures to enhance the vitality, durability, and beauty of their outdoor spaces.
Overseeding is a gardener's secret weapon against unsightly gaps and bare patches in the yard. As time goes by, even the most well-maintained lawns can experience thinning or areas of wear. By strategically sowing seeds over these areas, overseeding works to fill in these voids, ensuring a consistent and lush carpet of green. The newly introduced grass seeds germinate and grow, intertwining with the existing turf. This not only enhances the lawn's overall density but also creates a seamless, verdant blanket that rejuvenates the yard's aesthetic appeal.
Overseeding is the key to transforming a lackluster lawn into a plush, verdant oasis. By introducing fresh seeds into the existing turf, overseeding promotes a denser growth pattern. As these seeds sprout and mature, they intertwine with the older grass, resulting in a thicker and more luxurious lawn. This enhanced density not only provides a soft cushion underfoot but also presents a visually appealing, vibrant green expanse. For homeowners seeking that perfect, magazine-worthy lawn, overseeding is an indispensable step towards achieving that lush, dreamy landscape.
Overseeding plays a crucial role in natural weed control for lawns. When the turf is dense and thriving, there's little room for unwanted weeds to take root and spread. By introducing fresh grass seeds through overseeding, the lawn becomes thicker and more competitive, making it challenging for weeds to establish a foothold. As the new grass sprouts and grows, it crowds out potential weed invaders, reducing the need for chemical herbicides. In essence, a well-overseeded lawn acts as its own barrier against weeds, ensuring that the grass remains the dominant and desired plant in your yard.
By introducing newer and often more resilient grass varieties to the existing turf, overseeding diversifies the lawn's genetic makeup. This diversity means that if a particular disease or pest targets one grass type, the other varieties can still thrive, preventing widespread damage. Moreover, healthier and denser grass from overseeding can better fend off diseases and reduce the attractiveness of the lawn to certain pests. Thus, overseeding not only rejuvenates the appearance of the lawn but also fortifies its defenses against potential threats.
When you choose an overseeding service, you typically want it to coincide with a lawn aeration service. Core aeration with seeding keeps your lawn healthy and your lawn's roots actively growing. Aeration improves the airflow in the soil so water can better reach grass roots and promote root growth.
At FortSmith Landscaping, we can take care of your overseeding service and aeration to provide you with a lush, healthy, and thick lawn that will be the envy of your Wake Forest neighborhood!
What Should You Do Before Core Aerating and Overseeding Your Lawn?
Before aerating and overseeding your lawn, you want to be sure the lawn is mowed one to two days before. Also, be sure to mark anything on your lawn that you don't want the aerator to interfere with. Invincible fences and irrigation systems usually fall under this category.
Making sure your lawn is ready for the overseeding process will give you the best results. At FortSmith Landscaping, we will make sure your lawn is in the best shape before the process begins. We'll also follow up with lawn care to make sure your grass seeds are getting the essential nutrients they need to grow.
Aeration and Overseeding FAQs
Get Started with FortSmith Landscaping's Professional Lawn Overseeding Services
FortSmith Landscaping is here to provide overseeding service and lawn aeration in Wake Forest. Our team of professional landscapers can provide the lawn care you need to restore your yard and give you the curb appeal and healthy turf you've always wanted. Call us today at [phone] for a free estimate! Let us show you why more people in Wake Forest trust FortSmith Landscaping with all of their landscaping and lawn care needs.
Contact us today to schedule a lawn fertilization consultation by calling (919) 288-8495 or filling out the form below.