Wake Forest Lawn Care & Lawn Mowing Service
We mow grass... and we love what we do
Transform Your Lawn with FortSmith's Lawn Mowing Service
When you're seeking lawn mowing in Wake Forest, NC that keeps your home's or business' lawn beautiful, healthy, and eye-catching, you need an experienced, thorough, and reliable team.
The fact of the matter is that keeping a great lawn is not a simple process, and it often takes more than one treatment or service to keep it shining and appealing.
Professionals like our team understand the various ins and outs of lawn care and would like to share some different aspects that help keep your green pristine!
A typical lawn mowing service package includes mowing, sidewalk edging, trimming, removal of branches and debris from lawn areas, and blowing away grass clippings from curbs, walks, drives and patios.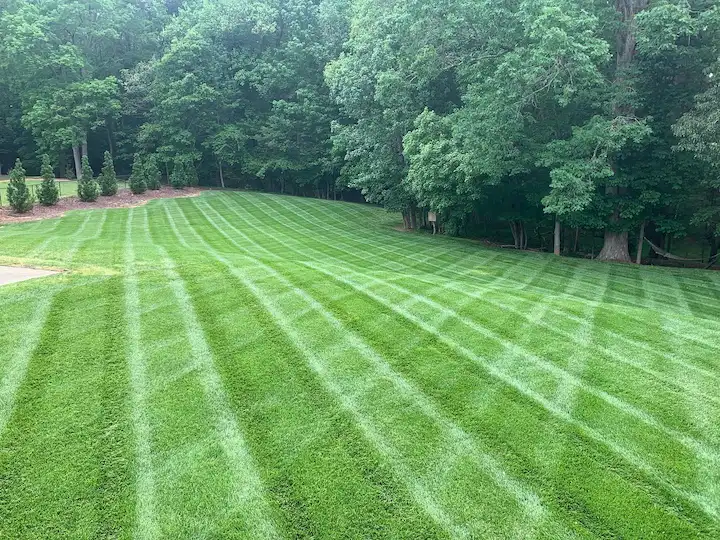 Our Customers Love Our Work
Diane Murphy
"Have utilized the services of FortSmith Landscaping and Lawn Care on a regular basis for lawn services, mulching, debris removal, and landscaping. Trustworthy, reasonable pricing, timely, dependable, and very personable. Highly recommend their services."
Hunter Brown
"I love their work, I have them cut my 7 acres every other week and they have recently installed a new deck around my house. Needless to say, they overbuilt it and it's going to last forever. I am planning on having them redo the mulch around the house in the spring and I hope to have them finish the fire pit soon."
Sianna Brown
"Harrison and the team are wonderful! They were great at communicating with me all the steps they were taking to make my yard beautiful! I would highly recommend them."
Nancy L
"They did a fantastic job cleaning up the leaves and bushes in our backyard. We had just bought a new house and were very overwhelmed with the amount of work there was to be done, but FortSmith really helped us out! Will definitely be calling on them again."
Sianna Vanous
"Harrison and the team are wonderful! They were great at communicating with me all the steps they were taking to make my yard beautiful. They weeded, removed an eyesore of a tree, mulched and trimmed the bushes! Our yard looks so amazing after this transformation."
Caitlin Prevost
"These guys are awesome! I've been using them for a few years for general lawn maintenance and recommend them to everyone I know. Cody is extremely friendly and professional. I've also used them to clean up the beds and mulch. They are honest and hardworking and have competitive pricing. Couldn't recommend them more!"
50+ clients over the years have left us a review online!  We are so grateful!
See what they had to say about our lawn and landscape services before contacting us.
Struggling with Yard Care Work? Restore Your Free Time and Beautiful Lawn with Our Professional Lawn Care Service
At FortSmith Landscaping, we take pride in providing our customers with high-quality lawn mowing services.
Our team of experienced professionals has the knowledge and equipment to give your lawn the care it deserves.
We understand the importance of a well-maintained lawn, and we will work diligently to ensure that your lawn is looking its best.
In addition, our team is always available to answer any questions you may have about your lawn care needs.
We believe that customer satisfaction is our top priority, and we will go above and beyond to meet your expectations.
North Carolina Licensed General Contractor      Fully Insured      25+ 5-Star Reviews  
Grass Cutting Is Essential For Your Lawn
A well-manicured lawn is the cornerstone of any great landscape. Not only does it provide a green space for people to enjoy, but it also adds curb appeal and value to a property.
However, maintaining a healthy lawn requires more than just watering and fertilizing. It also requires regular grass cutting.
Grass cutting helps to keep the grass healthy by removing dead and dying blades, which can otherwise lead to disease.
In addition, grass cutting helps to improve the look of the lawn by giving it a neat and tidy appearance.
Finally, grass cutting also helps to control the growth of the grass, preventing it from becoming overgrown.
As a result, grass cutting is an essential part of any lawn maintenance regimen.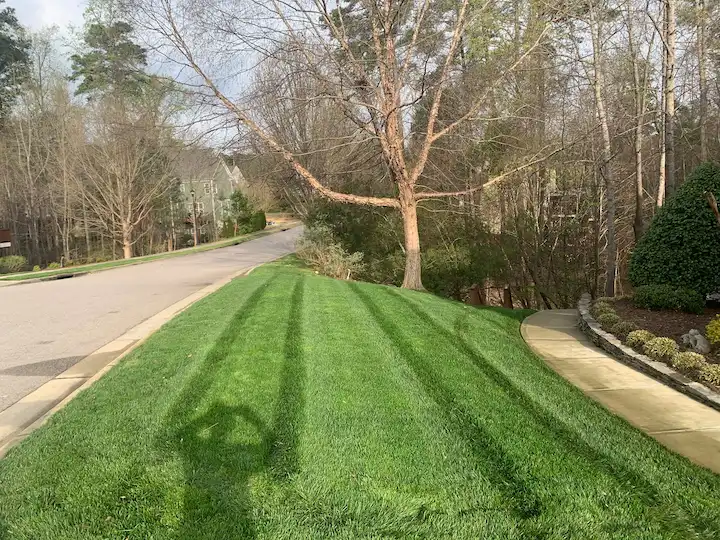 How Often Should you Mow your Lawn?
A healthy lawn is the foundation of a beautiful landscape. However, keeping your lawn looking its best requires more than just occasional mowing.
For optimum results, FortSmith Landscaping recommends cutting your lawn on a weekly or bi-weekly basis depending on the season and the growth rate of your grass.
This may seem like a lot of work, but the frequency of mowing will actually help to reduce the amount of time you spend on other lawn care tasks such as fertilizing and watering.
In addition, regular mowing helps to prevent weeds from taking over your lawn and encourages the grass to develop strong, deep roots.
As a result, your lawn will be better able to withstand drought and disease. So if you want a healthy, attractive lawn, be sure to mow it on a regular basis.
Lawn Care Services That Keep Your Property Glowing
The main focus of the outdoor part of your property is well, your lawn! In order to keep it in tip-top shape during growing season, we offer to mow, trim, edge, and blow. These services help give it an even, clean-cut, and uniform appearance in Wake Forest. 
We don't stop at grass mowing! For the hedges and bushes surrounding your lawn, we can trim them carefully and precisely to help keep your desired aesthetic look.
The beds on your property help contribute to the overall beauty of your space. We can complement our mowing service by efficiently providing coverage for your beds with mulch and pine straw installation services to keep them well-rounded and complete.
FortSmith provides year around yard care. Leaves can create quite an unsightly mess on your lawn, but we offer leaf clean-up, hauling, and removal of leaves, making sure to leave your property looking clear and picturesque. We also provide expert aeration and overseeding lawn service at great rates to help your grass grow thicker and healthier.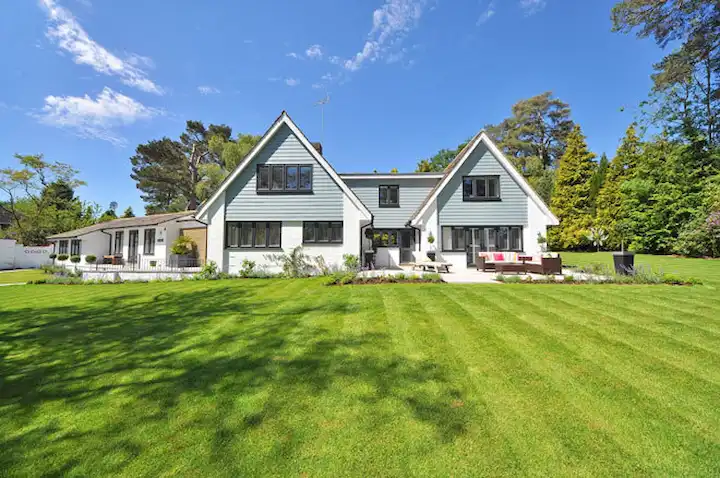 Contact FortSmith Landscaping For Wake Forest Lawn Mowing Services
We provide industry-leading lawn care services to all residential and commercial property owners located in Wake Forest, NC, Rolesville, and surrounding areas.
We understand how important a well-kept lawn is for property owners, that's why we offer free estimates at your convenience.  Our clients love us and you will too.  If you need some encouragement you can read our raving reviews here.
If you want to give your home's or business' lawn areas a winning advantage, trust our team. With over 15 years of experience in lawn care and maintenance along with unending dedication to hard work, you can rest easy trusting your lawn's beauty to us! We are knowledgeable about many different types of grass and understand their unique mowing needs.
Call (919) 228-8495 or fill out our contact form below for lawn care service in Wake Forest, NC that keeps your home's or business' lawn and landscaping looking brilliant, vibrant, and full!