Wake Forest Lawn Seeding Service
A Lush and Healthy Lawn is the Pride of Every Homeowner
Professional Lawn Seeding Services
Seeding can be the key to having a green lawn that will be the envy of the neighborhood. The lawn care experts at FortSmith Landscaping are committed to helping you have a healthy lawn that will be plush 365 days a year.
Professional lawn seeding services are used to grow a new lawn, fill in patches, or thicken existing grass. When you decide to seed your lawn, it will promote germination, eventually leading to a lawn you will be proud of.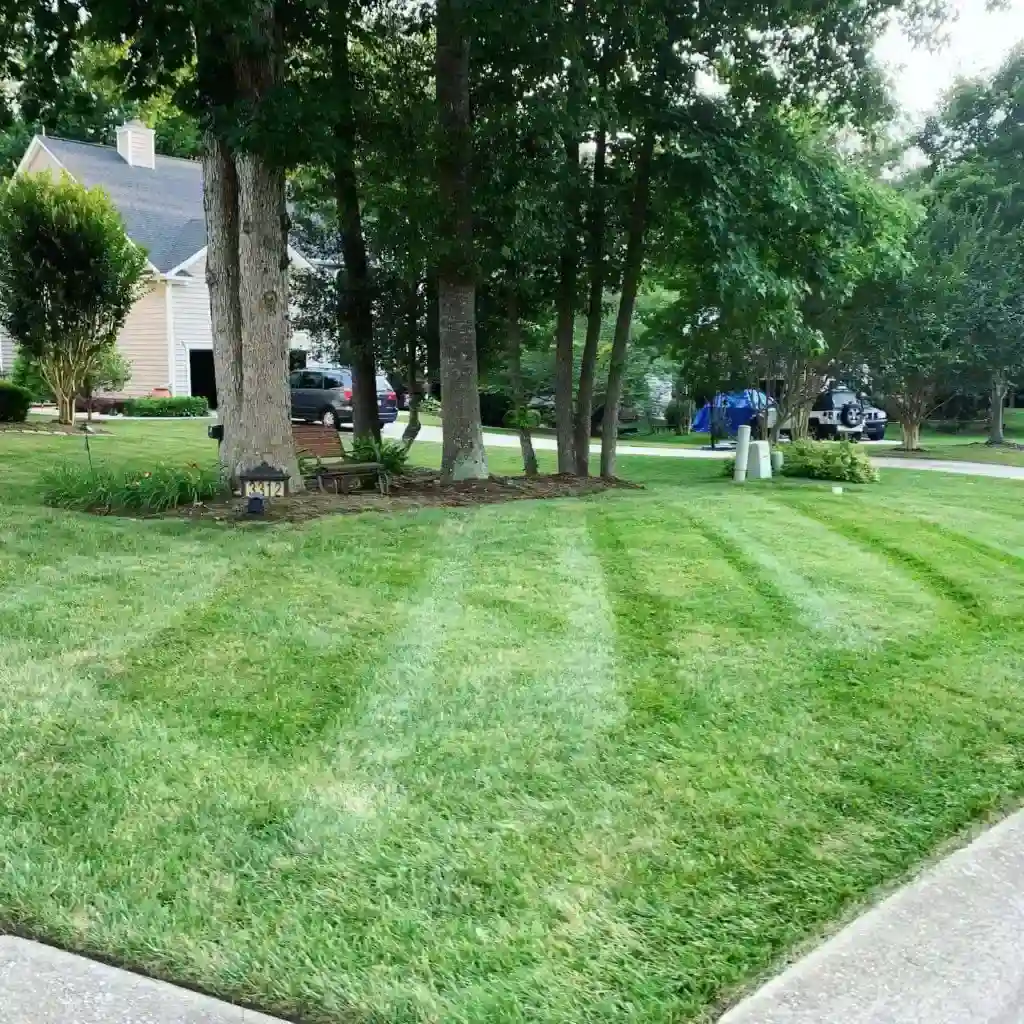 Lawn Seeding vs. Overseeding
Not all seeding services are created equal. You may choose to have your lawn seeded or overseeded. The difference is that lawn seeding is when grass seed is added to new soil or soil that is extremely worn whereas overseeding is where grass seed is added to an already existing lawn. Overseeding helps to fill in bare spots and improve the overall density of your existing lawn.
Power Seeding
If you're thinking about lawn seeding service, you may want to consider power seeding. Power seeding uses special equipment to sow seeds directly into the soil without damaging your existing grass. This process can be more successful because of the way it plants the seeds into your soil. If you're looking for greater seed-to-soil contact, you'll want to consider power seeding.
Best Time to Seed Your Lawn
The best time to seed your lawn in Wake Forest is generally the spring or fall. You want to seed your lawn during the growing season when your soil temperature is consistently between 45- and 65 degrees Fahrenheit.
If you have cool-season grasses, you'll want to opt for the fall. For warm-season grasses, late spring is generally recommended.
North Carolina Licensed General Contractor      Fully Insured      25+ 5-Star Reviews  
Preparing Your Lawn for Seeding
Before any lawn seeding service, your lawn needs to be ready. These are some things you'll want to consider:
Clean the area
Be sure there are no debris, rocks, or weeds in the area where you plan to plant grass seed.
Level the surface
Be sure the area is level so that you can have a plush, even-looking lawn.
Check the soil
Do a soil test to see your soil's pH level and nutrient content. You want to be sure that your soil is ready to take the new seeds so they will grow grass. You may need to aerate your lawn to make sure the nutrients can penetrate the grass root effectively.
Aeration & Seeding
Lawn aeration services often coincide with lawn seeding. Core aeration with seeding allows you to maintain a healthy lawn and ensure that your lawn's roots grow well. Aeration improves the airflow in the soil so water can better reach grass roots and promote root growth.
If you are interested in the aeration process in Wake Forest, the lawn maintenance professionals at FortSmith Landscaping can get the job done along with any lawn seeding service so that you can have the beautiful lawn you've always wanted.
Benefits of Seeding and Aeration
If you seed your lawn right after it's been aerated, it will help to fill in spots where grass is not as thick as you'd like. Aeration provides holes that are perfect for new grass seeds to grow.
The aeration process can help to break up any hard-packed soil. This type of soil can make it difficult for grass to grow and prevent you from having the lush lawn you want.
When your lawn goes through the aeration process, it allows for grass to grow down into the ground, rather than just on the surface.
Lawn seeding introduces resilient grass varieties, bolstering the turf's defenses against diseases and pests.
Aeration and seeding allow for more air and water to penetrate the lawn. As air and water reach the lawn's roots, it can grow better and tolerate drought and other conditions.
Seeding and aeration services help to make sure that your lawn is getting all the nutrients it needs to thrive. The cores of the soil that aeration leaves behind on top of the lawn serve as a way to fertilize the area for the new grass seeds that are laid down during seeding.
Lawn Aeration, Lawn Seeding, and Lawn Maintenance FAQs
Call FortSmith Landscaping for Your Seeding Services in Wake Forest
When you need lawn seeding in Wake Forest, you can count on FortSmith Landscaping to get the job done. We provide complete lawn care so that you can have the green lawn you've always wanted.
At FortSmith Landscaping, we believe that a well-maintained lawn not only enhances the beauty of your property but also adds value to your home. If you're ready to give your lawn the ultimate transformation, contact us today to schedule a consultation. We'll work with you to create a plan that fits your budget and meets your lawn's specific needs.
Contact us today to schedule a lawn seeding consultation by calling (919) 288-8495 or filling out the form below.