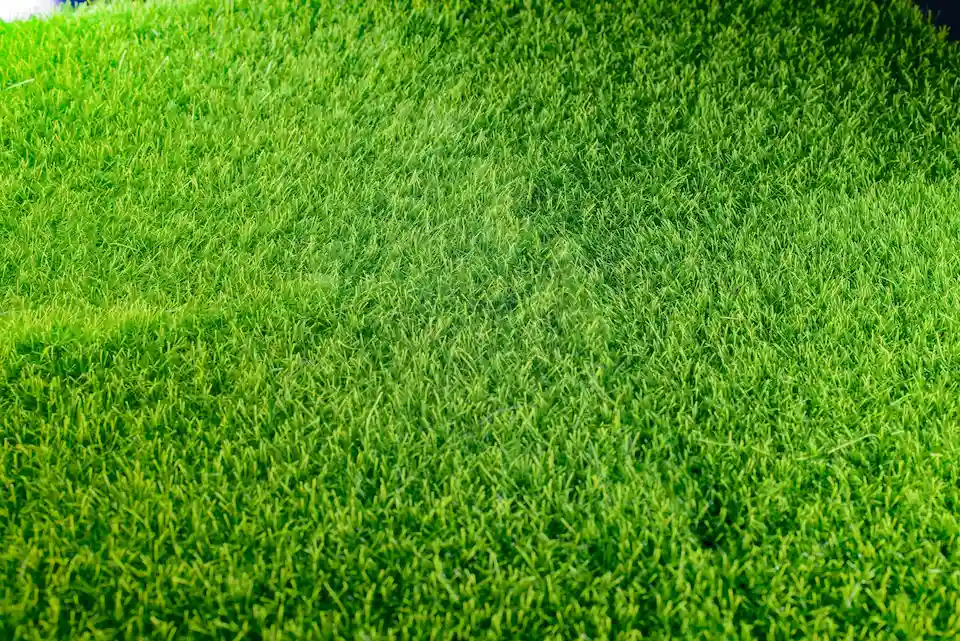 Living in the mixed climate of North Carolina, you are used to the sunny months of spring and summer when the grass, shrubs, flowers, and other plants in your yard grow. However, you are equally used to their dormant stage, during the cold winter months when snow and frost cover your turf and prohibit the growth of new, lush grass and plant life.
Just because the winter months tend to have a harsh impact on your yard does not mean that there isn't something you can do to prepare your lawn for spring late in the wintertime.
Our Wake Forest area springtime lawn care professionals have the advice you need to promote a healthy lawn by sharing our favorite spring lawn preparation tips.
What is Spring Lawn Preparation?
Spring lawn preparation is when the necessary tasks are performed to get your grass, soil, and plants ready for their best growing season. For instance, everything from mowing, weeding, aerating, applying necessary nutrients to the soil, and fertilizing are all examples of things that can be done to maintain the beauty of your yard before spring arrives. These tasks can be done by either you, the homeowner, or by a professional spring lawn preparation company.
Benefits of Preparing Your Lawn for Spring
Spring lawn care prepares your turf and plants so you can have the beautiful lawn you want all spring and summer long. Doing outdoor lawn preparation in the late winter and early spring months of March through May can have a lot of positive benefits on lawns.
Improves curb appeal.
Prepares your lawn for seeding, mulching, fertilizing, and more.
Encourages root growth.
Relieves compacted soil.
Eliminates pests.
Avoids brown grass.
How Do I Prepare My Lawn In The Early Spring?
If you live in North Carolina or another state that gets snowy, icy winters, in order to prepare your lawn for spring, you need to wait until after the last frost to start checking items off your lawn to-do list.
The ways you can prepare your lawn for the spring are:
Make sure your equipment is working: Is your lawn mower or your air blower working? Ensure you have performed any needed tune-ups prior to your first mowing of the season.
Stock up on the tools and items you need: Whether it's garden tools, fertilizer, grass seed, or something else, there's plenty you might need come springtime working in the yard. Make sure you have those items now so you are ready to work when the spring weather arrives.
Clean up the yard: Removing any junk, branches, sticks, leaves, or other debris prepares your yard for whatever treatments are needed to get your lawn ready for spring.
Prepare garden beds: Cleaning out all of the weeds and unwanted debris from garden beds until you are left with just clean soil that's ready for new plants once the final frost of the season passes.
Install sod: Planting new grass, replacing dead grass, and filling in bare patches can be done as a spring lawn prep task in early spring or late winter.
Treat the grass and soil: From aerating, fertilizing, applying pre-emergent herbicides, overseeding, mulching, and more, there are many ways you can treat your grass so that it promotes new growth in the spring.
Cool vs Warm Season Grasses
Depending on your home's climate, different grasses have different needs. For instance, cool-season grasses like Kentucky Bluegrass, Fescue, and Ryegrass experience active growth mid-spring and stay nice and green into the fall seasons before becoming dormant in winter. Warm-season grasses like Bermuda grass go dormant in the fall and do not become green and healthy again until the weather warms up for spring.
Why does it matter whether your grass type is cool-season grass vs warm-season grass? It is important because it tells you when the best time to start lawn preparation and treatments for your lawn. For instance, cool-season grasses should be overseeded in late summer and early fall, whereas most of North Carolina's warm-season grasses will benefit from last winter and early spring lawn preparation methods.
Steps for Proper Spring Lawn Preparation
What is the best plan of action to get the most out of your home's landscaping and spring lawn care? Let's look at the 9 steps you can take to prepare your lawn for spring projects.
Assessing Your Lawn's Needs
Not all yards made of the same grass have the same exact needs, so in order to get a full picture of what needs to be done for your lawn, the first step is to assess your needs. For instance, consider what tools or equipment you need if there are any major area projects in the yard that need to be fixed, and what actions would positively improve the appearance and well-being of your lawn.
Whether it's needing a lawn mower tune-up, cleaning up debris and sticks left behind from winter snow storms, stocking up on mulch and fertilizer, or aerating your lawn so nutrients enter the soil- whatever the specific needs are for your yard should be addressed early to prevent weeds from growing and promoting healthy grass growth.
Choosing the Right Equipment and Supplies
Depending on the issues facing your lawn, now would be the ideal time to begin researching the types of supplies or equipment your lawn might need to make the grass grow healthily for spring. Finding the right tools and supplies for the jobs you plan to get done for spring lawn preparation, from finding a good pre-emergent herbicide to investing in new garden tools, it is likely you do not already have everything you need for spring and summer lawn care on hand in the shed already.
Scheduling Aeration at the Right Time of Year
Aeration allows water, oxygen, and other nutrients to access the soil roots by releasing compacted soil. The process of aeration creates pores or holes in your grass, dislodging soil that's become compacted under grass and debris buildup, known as thatch, all winter long.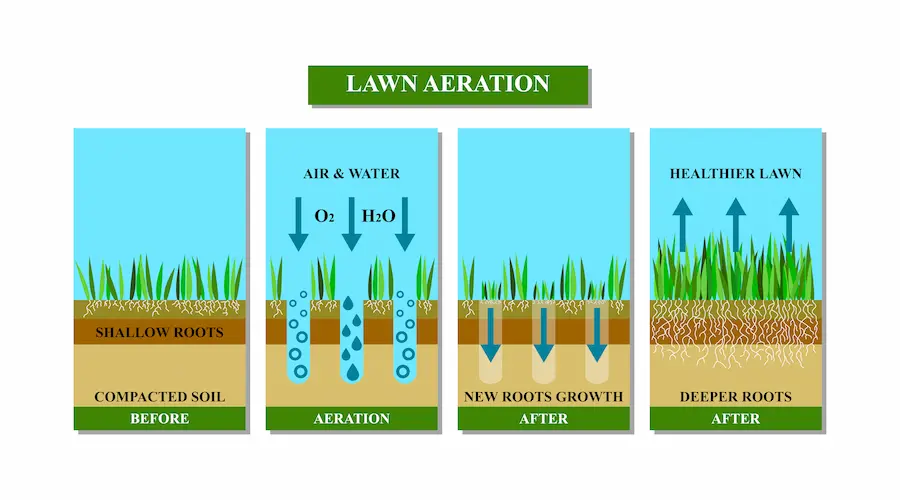 By scheduling an appointment to have your lawn aerated by a local landscape aeration company, you will begin the process of getting rid of bare spots, killing weeds, eliminating the potential for pests, and promoting that healthy and luscious green grass you strive for.
Overseed
Overseeding is when you sow new grass seed over existing grass to fill bare spots. By adding new seed to existing seed, followed by a slow-release nitrogen fertilizer that is regularly watered, you should start seeing new grass sprouting. Five weeks after you see signs of new grass, you can maintain its growth with a regular quick-release nitrogen fertilizer.
Apply Pre-Emergent Herbicides
We all know how annoying spring weeds like crabgrass can be. Most homeowners want a way to not only get rid of those pesky weeds but to promote the healthy growth of what will become a vibrant green and thick lawn. that's why applying pre-emergent herbicides to combat weed growth prior to springtime is one of the important spring lawn care steps.
Most pre-emergent herbicides will perform to create a chemical barrier that coats the weed seeds and stops them from being able to root and grow.
Understanding Soil Types and pH Levels
Understanding your soil is a useful way to know the best way to treat your lawn for spring lawn care. A soil's pH levels are measured by how acidic or alkaline the soil is. Measured on a scale between 1 to 14, the pH level can tell you the best type of soil amendments you need to balance the pH in your soil.
A pH 7 is neutral soil that is neither acidic nor alkaline. Any number above pH 7 is acidic and anything above pH 7 is alkaline. Knowing your soil's pH allows you to understand the appropriate course of action in treating the soil- whether to add lime, sulfur, vermiculite, or other soil amendments.
Soil testing kits can be purchased at most hardware stores, but when you work with the trusted experts at Fort Smith Landscaping, we can test your soil's pH as part of our seasonal lawn preparation services.
Maintaining Proper Moisture Levels in Your Soil
When there is too much water or too little water, plants and grass may die and growth becomes inhibited. It's important for plant life to maintain moisture in the soil, without it becoming too dry or too wet. Maintaining proper moisture levels truly is a situation that involves getting it just right and can depend on several factors, from the structure and thickness of the ground to air quality and the number of toxins found in the soil. Scheduling regular maintenance with a professional landscaping company can help maintain the right amount of moisture in your soil so that plants and grass seeds can reproduce properly.
Applying Fertilizer to Enhance Growth
Laying fertilizer between the months of February and April helps the growth of grass seeds and healthy plants that will flourish come springtime. Apply fertilizer after the lawn has been aerated and overseeded. Begin the process by adding fertilizer at the perimeter of the lawn evenly, then filling it in the middle. Fertilizers will operate not only as a way to promote new growth but as a weed killer.
Maintenance Tasks to Keep Up With Regularly Through the Season
Creating a lawn maintenance schedule is important for homeowners who value keeping up with the needs of their lawns. While aeration, overseeding, and fertilization will take place once in early spring, you do continuously need to do other tasks regularly for maintenance.
Tasks that need to be done for maintenance are:
Watering: water your lawn in order for the lush green growth to occur all season long. Most lawns need about an inch of water every week, depending on weather conditions.
Mowing: A bi-weekly mowing schedule is realistic and sustainable for most homeowners, but if you are low on time, you can schedule regular maintenance mowing with a professional team of lawn care experts.
Weeding: Unfortunately, despite all your efforts some weeds are going to sneak by every now and then. The best way to avoid the growth of more weeds throughout the spring season is by regularly weeding garden beds and other areas of growth.
Let FortSmith Landscaping Keep Your Yard Looking Its Best All Year Long
Are you looking forward to getting your lawn ready for spring? Our spring lawn preparation experts at FortSmith Landscaping are happy to maintain your spring lawn all season long as well as prepare your lawn for spring and summer.
Whether you need spring yard cleaning, mowing, aerating, fertilization, or more- our team of knowledgeable and skilled lawn care professionals will help you achieve the green, healthy lawn you, your family, and even your neighbors can relish.
Contact us today for your free spring lawn preparation estimate by calling (919) 228-8495 or filling out the form below.